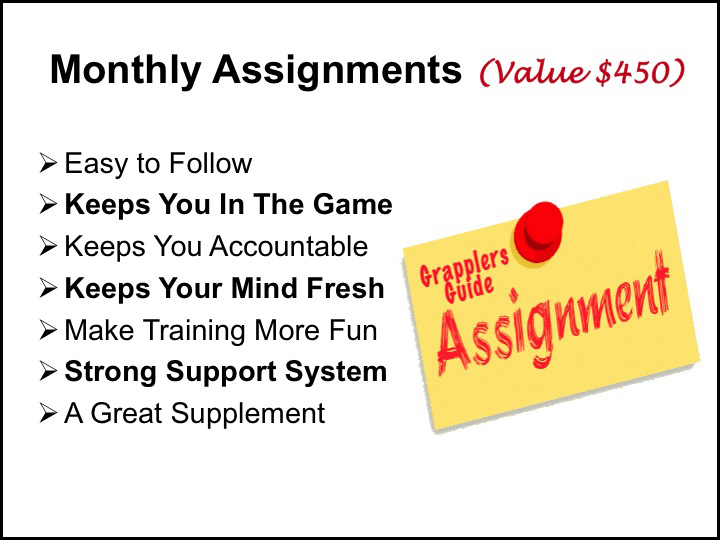 Josh Vogel – BJJ Brown Belt
Kabir Bath – BJJ Purple Belt
Steve Pope – BJJ White Belt
Ryan Shaw – BJJ White Belt
Ted Jones – Freedom Martial Arts
Grapplers guide has been a great source of information for us and you are always updating with new content. Thanks for creating the best site on the internet.You really do run a great site with a ton of content. We have tried many others but yours stands out as the best and it just keeps getting better. You are setting the New standard for all the other sites on the web to try to keep up with. Thanks for all you do for all of the Grappling Guide members.
Ted Jones
This is an amazing resource site for people doing Brazilian jiu-jitsu, submission grappling or mixed martial arts. It's full of unique features like downloadable worksheets and videos you can't get anywhere else. It also has some great forums to ask questions and receive respectful and helpful answers.Whether you're training at one of the top BJJ academies in North America, or with a few friends in a garage, The Grapplers Guide will make you a better grappler.
Stephan Kesting
BJJ Black Belt
www.GrappleArts.com
Author of Many Top Grappling DVD's
Published In Tapout, Grappling, and Black Belt Magainze
The Grappler's Guide is easily one of the best sites for improving your grappling game that I have seen yet. There are so many awesome BJJ Brown Belt and Black Belt members with some really great advice on a wide range of subjects. The Grappler's Guide is a place you feel welcome to belong.
Keith Owen
Pedro Sauer Black Belt
www.BJJ Moves.com
The Grapplers Guide is an amazing resource to those who are beginning Brazilian Jiu-Jitsu/Submission Grappling as well as those of us with well over a decade of experience and training. What I enjoy the most about GG is the level of professionalism that all of the contributors maintain while helping out the inexperienced. As many of you know, this isn't something you normally come across on most forums or training sites. Many times people approach the subject with a condescending tone and a know it all personality, GG and it's contributors are the complete antithesis of that style of "help". I've been a member of The Grapplers Guide since 2011 and I'm looking forward to watching the site continue to grow and achieve a whole new level of greatness for many years to come!
Sincerely,
James Foster
2nd Degree Black Belt with over 15 years of experience in Brazilian Jiu-Jitsu and over 24 years of martial arts experience
www.facebook.com/teamfoster
I've only been a member of Grapplers Guide for 4 months, but it has already helped me improve my game. I train out of Fifty/50 BJJ under Ryan Hall and Seph Smith and receive high level instruction on a regular basis. Even so, having access to such a diverse group of experienced grapplers to suggest techniques, bounce ideas off of, or critique my competition videos is a big advantage. I haven't encountered a single user on the website that wasn't helpful, and people don't start trouble behind anonymous usernames like on some of the larger forums. The Grapplers Guide is an invaluable supplement to my training and I'm proud to be a part of the community.
-Jaan Hasan

I'm Stapho Thienpont and I have been a grappler's guide member for the past two months or so. I'm currently still a four stripe white belt but I'm going to get my blue belt soon. I really like the grapplers guide because of a few of reasons:
1) I feel like my all my input is appreciated
2) It's clear to me that all members are like minded and share the same goal
3) It has given me lots of little ideas that have helped me and my drilling partners to waste way less time
4) I really really really like the breakdowns of different matches.
5) I know I could get any questions that I might have awnsered
These are just the things I have noticed and used until now but I'm going to start using a lot more of the other stuff on the site especially the new critique section, the grapplers tube and the worksheets! I would definitely recommend anyone to join because it costs less than most dvd's and dvd's never respond to your questions!
-Stapho Thienpont
BJJ White Belt – 4 Stripes
Hey Jason just wanted to let you know how much the GRAPPLERS GUIDE has helped my game specially at those times when i was not able to get in to class. I became a member in February of 2008 and had hip replacement surgery in November 2011 and had 4 months of not being able to train. with that being said i was able to watch the videos and read the forums to keep my learning process going during that time. I have and still recommend the GRAPPLERS GUIDE to friends and students
Dennis L Wright Jr.
5th degree black belt kenpo karate
19 years over all of submission grappling experience
My name is John Miles and I've been a Grapplers Guide member since April of 2008. My username is Jandaim. I'm currently a purple belt under Luiz Palhares and have been training since 2007 (about 5 years). The Grapplers Guide website has helped me immensely in several ways. First, I have a blog there that I update often and in addition to getting tons of great help from other high ranking members with issues I've had, it also has helped my mental game by enabling me to go back and see where I've been in my training at various stages. It helps me to spot negative patterns before they become habits and are more difficult to stop. Second I encounter a ton of great techniques that I can instantly add to my game, complete with discussion from other members covering issues they've faced in adding the techniques to their games. The community helps each other. Last but not least, I get to watch tons of great competition footage and take part in discussions that I might not normally come across in my limited grappling circle outside of this online community.
I highly recommend the Grapplers Guide to anyone who has an interest in improving their grappling skill. You absolutely won't regret it. Unlike other sites, there are a lot of contributing, high ranking practicioners, there is a non-judgemental vibe, and the content is professionally oriented with little to no drama and/or immature discussions.
Regards,
John Miles
Purple Belt
As a member of The Grapplers Guide I wanted to provide some feedback for others who might be interested in signing up. I consider myself more of a lurker but in my 2 plus years as a member I still feel I get so much from the site.
I've been grappling on and off for years and getting my blue belt in BJJ was a pretty big accomplishment – my schedule keeps me super busy so when I train I have to make the most of it. The Grapplers Guide is an excellent tool to help me get the most out of my training while both on the mat and more importantly for me, while off the mat.
The forums are excellent – there are discussions on just about every aspect of BJJ that you can think of (including health issues, teaching, competing, staying motivated, etc.) and I can't re-call every seeing a thread turn into a name calling flame war which seems to happen on many other forums (even when people have disagreements).
The Grapplers Guide has a tremendous amount of video content ranging from techniques (no-gi and gi), solo drills, partner drills, competition analyzing footage, favorite you tube vids, exercise videos, etc. I personally love the videos that are shot in a class setting with Jason teaching.
In addition to the forums and video content (two of the primary reasons I initially signed up) The Grapplers Guide has so much more to offer – GG Assignments, Game Plans and Outlines for running your own studio/classes and strategies for grappling, a mental edge section (covering topics like managing stress, self-confidence, setting goals, etc.) That's just a small sample of what The Grapplers Guide has to offer.
Rob Whitney
BJJ Blue Belt
My name is Marcelo Corpuz. I have been training for about 4 years, and I am currently a BJJ blue belt. I joined Grapplers Guide about 3 years ago, and I am a member of Grapplers Guide.
I am a big fan of Grapplers Guide because it is the most comprehensive bjj/grappling website out there. Instructional video? Tons. Competition video with commentary? Check. Training and diet advice? It's covered. I could go on and on, but I encourage everyone to check out the site for themselves to really appreciate how comprehensive the site is.
Jason obviously is passionate about grappling, and that comes through in the website. I have used the website to learn many things, and I believe it has helped me with my competition success (Among other competitions, I placed first at Senior 2 middleweight at last year's Chicago Open).
I highly recommend The Grapplers Guide to anyone who loves BJJ and grappling.
Regards,
Marcelo
BJJ Blue Belt
What I like about the Grappler's Guide is that Jason has create an amazing agnostic knowledge center that I frequent often. In taking the challenge of building GG, Jason has incorporated the contributions of some of the best grapplers in the world. Whether its BJJ. Judo, Sambo, wrestling or Jui-jitsu you can find strategies that are tuned to your style. If not, post a question. Your sure to find useful and practical advice.
Reg Foulkes aka
GG Member Since (2007)
Experience 4th decade of Martial Arts training
Can Ryu Jiu Jitsu, Judo, MMA, and BJJ
My club is perfect, but my memory is not. GG is a perfect supplement to my club. When I come back from drilling, I need to see a video reminder of what we drilled that day, or check on some move that I almost remembered, or check on a move that someone else pulled. But CG is more than a set of YouTube videos, it is a complete (really complete!) resource for every aspect of the sport. It also provides a fine community of serious practitioners. I am a charter member of the GG, a super senior (almost 60 y.o.) purple belt, and need all the help I can get! I never post, but I get a lot out of other people's posts. I highly recommend this service.
Mo
BJJ Purple Belt
My names Zac Paletta im 20 years old, and live in Chippewa Falls,WI. The grapplers guide is by far the best online program/studio on the net these days. I have already implemented tons of new techniques learned straight from this site into my game. The honest feel i get from the grapplers guide is like having a grappling school sitting right on my lap. The way the videos are broken down and explained make it extremely easy to learn to the point where i feel i know them before i actually ever hit the mat. This is my 3rd month being a member and i can say the holes in my game have not been filled in any faster than the year and a half ive been doing Brazilian Jiu-Jitsu for. I highly recommend becoming a member if you have any interest in accelerating your learning and becoming an all around complete grappler.
Thanks GG,
Zac
No-gi year and half
Gi 5 months
Wrestling 5 yrs

I have only been a member at GG for few months, but all ready the money has proven it self well spend.
I have only two years of experience, but since I moved to a remote part of Denmark I already run my own gym. And what I miss in not having my on instructor ore even a partner at just a higher level GG makes up for. I recommend the way GG both give me training instructions and connects me whit fellow grapplers from all over the world. Through GG I have found a way to improve both the level of my technics and my overall understanding of BJJ and SW.
After I signed up for GG, I have won my first medal. A second place at a national event against people who is trained by black belts and who has at ton of training partners.
I recommend GG for anyone who wishes to be inspired to change and improve their everyday training.
Dennis Andersen Gade
Kofod, Denmark
My name is John Liao & I'm a 2nd stripe blue belt at Gracie Barra Blacktown in Sydney Australia. I've been training BJJ for just over 3 years. I have been a Grapplers Guide Member for just about a year. The thing I like most about the site is the tons of informations I can browse through even if Im not looking for something specific I always find something interesting. I love the forums it helped me a lot with techniques or drills I'm having troubles with tips & tricks by other grapplers all of the world. Every members I came across are friendly & willing help with any question you post on the forums. I look at the the Grapplers Guide site as a private tutor when I'm not in class & would recommend it to everyone.
John Liao
BJJ Blue Belt
Sydney, Australia
I've been a member of the website for a couple of years now, during which time I've advanced from blue to purple belt in BJJ.
I'd been a blue belt for about 3 years when I first signed up to GG, and had just come back from a year long lay off after moving for a new job. I can honestly say that the study aids and technical content went a great way towards getting me back on track and helping me realise what I needed to work on. Within a year my way of looking at grappling had completely changed, I stopped looking for the next flash move with which to temporarily beat training partners and started to appreciate the core principles behind controlling and submitting an opponent.
However, my favourite aspect of GG is the forums. On no other grappling website is there such a dedication to high quality technical discussion of techniques and theory. The best thing is, people don't always agree! The ability to read a constructive conversation between two high level grapplers about the pro's and con's of a technique is a privilege and I find it an invaluable insight into how they think about position and tactics. Plus, unlike on some other forums I could name, the forums don't degenerate into flame wars or threats. Everyone is there to help each other and offer constructive opinions.
As long as I've been a member of the website I've been recommending it to friends and training partners, and everyone who goes on to check it out is suitably impressed.
Cheers,
Dave Williamson
BJJ Purple Belt
Hi. My name is Paul Sheean. I have been doing Judo for about 7 years and Jiu Jitsu for about 3 (on and off due to injuries, about 18 months of training). The Grapplers Guide has helped immensely with the way I think about training. The "Short But Sweet" videos Jason puts out for free are some of *the best* videos to watch to really get an idea of the versatility of a single position or concept and the friendly community in the forums is extremely helpful for working out specific issues or just chatting with like-minded people. Jason himself is a regular poster in the forums and very approachable and friendly. Anyone with even a passing interest in grappling of any form would do well to get involved in this community.
Paul Sheean
judo sankyu and jiu jitsu white belt
I have been member of GG for 4 years. I remember when Jason offered membership I was actually on honeymoon. I had to sneak away from the new wife to find a PC and sign up as I promised no computers and no BJJ while we were away.
Since then we have had 2 lovely children but that has seriously reduced my mat time. Luckily GG helps me make the most use of my limited time. The breakdown of various techniques is almost as good as being in class, but with the added benefit being able to watch them whenever you catch a free 15-20 minutes. This is ideal for someone like me "part time grappler, full time dad".
Zafar Hashmi
BJJ Purple belt under Roger Gracie
I am a member at the Grappler's Guide for almost a year now. My friend and coach (jkdberlin), a quite active member here, told me about the Grappler's Guide some days after I was promoted to bluebelt when we were talking about BJJ and grappling training resources and he said the Grappler's Guide is the most diverse internet resource and has a huge archive with video analyses etc plus the members of the forum are to a high degree advanced grapplers and BJJ practitioners. So, I wasn't disappointed – the material here is just enough to get lost in it forever. I really needed to step back a little and stay patient, reducing the amount of tutorials I would watch to a maximum of 2 per week.
I had a lot of training related goals the last 12 months and the Grappler's Guide definitely supported me in several aspects to achieve them. For example starting to built a game plan and revising or improving or even starting anew from time to time.
I also thing that the Grappler's Guide might be the best thing that can happen to you if you experience lack of motivation or frustration. I was to start competition training last autumn when a severe flu attacked my heart and my lungs and I was not able to train for almost three months. If something like this happens to you, resources like the Grappler's Guide are a great help in keeping your mind on track, supporting you to reflect on your game, your training, your goals etc. After all, when you are back on the mat you will profit from that time. I personally, reflected a lot on my current game plans and came out winning my last MMA bout just in December with quite the exact realization of my game plan: Cover against strikes, grapple for the takedown or back, choke.
Would I recommend GG? Most definitely, yes!
Best,
Vanessa Reinsch
BJJ blue belt and promoter of the Submit'er Challenge
(the first Woman's Grappling and BJJ Competition League)
Hilti BJJ IMAG Berlin, Germany
I have been training jiu jitsu on and on for 8 years. NoGi. What I really love about the Grapplers Guide is that all the instruction is cataloged and organized in such a way it is easy to find a resource. If I am working on my guillotine this week, I spend some time before each class reviewing techniques from the site and take that with me into the gym. Moreso than just the video techniques, if the sense of community with other members. Some of the best information, details I have seen, come from the forum conversations. Whether it is tips to tighten up the North South Choke, or how the eat properly before a competition, you will usually find it there.
If you love Jiu Jitsu, or you are new and just starting out, The Grapplers Guide is a great resource.
Bradley Koch
8 Years No-Gi Jiu Jitsu
My name is Andrew Prickett, I have been a Grapplers Guide member for over a year now! This has single handedly been the best grappling rescourse that I have every used. I am currently a purple belt with two bjj schools that I run. I train with Leo Dalla, and to supplement the education I get from my instructor I use the grapplers guide site.
Since joining I have been using the Grapplers Guide website to build grappling gameplans for myself and some of my blue belt students. Also continually cary out the assignments that you have posted on the site. For example we drill a position, and keep on that position for a good bit. This is in order to go deeper with that one position. The site has helped me on how to watch competition footage and break down what I am watching for learning purepose. I have also been able to use the site for training partner analysis. This has helped me to understand how to breakdown any competitors game, and provide a gameplan based on that said persons game. This one site I can say has single handedly been more valueable that anyother Jiu Jitsu rescourse I own!
I highly reccomend the grapplers guide to anyone out there that is serious about taking their grappling to the next level, and for the price it is a steal!
Andrew Prickett
BJJ Purple Belt
Owner of Staunton mma and Valley Jiu Jitsu academies.
I've been visiting the Grapplers Guide for about 2 years, and this site has pretty much all your answers to any questions, concerns, problems you might have related to grappling. It provides so much information through a ton a videos and articles. Members post up current things they are working on or have problems with that alot of guys can relate to and talk about. I don't see any other sites out there that give you downloadable game plan outlines and goal setting worksheets. Any postion, submission, pass, or takedown you want to learn or clean up, there is a video for. I have been training BJJ for a little over 2 years, I am currently a blue belt and have equal amount of NOGI experience. This site does exactly what it says, DEDICATED 100% TO YOUR GRAPPLING PERFORMANCE! But thats not all its limited to. GG has great advice on dieting, workouts, competition footage, judo techniques, injury discussions, gear and dvd reviews, etc. I'd hope that anyone thats serious about grappling goes online looking for any extra knowledge or videos will check out the grapplers guide. I see this website only getting better and better.
-Matt Leimbach
-BJJ Blue Belt
I have been a member of The Grapplers Guide for only two (2) months. I am currently a Blue belt at my school and will be testing for my purple belt in March some time. I love grapplers Guide because no matter what question you ask no one seems to talk down to people and are willing to help with anything they can. I also like how there is always something new on the site be it videos or info on a way to do things. Another thing I like is there is a place to upload videos of grappling matches and get outside input on it instead of just those you train with day in and day out. Everyone on this site is here to help each other get better and not insult or discourage people. The Grapplers Guide has helped me in many ways. It has helped me mentally because now instead of just going to class to learn technique I go in to also work a goal to work on while rolling. Going into class with a goal has helped me feel more comfortable in situations that I used to always try my hardest to avoid. It has also helped me improve physically by showing me workouts designed for grappling as well as diet and nutrition information. Grapplers Guide has helped to motivate me to get my weight back down and start to train harder after a knee surgery put me on the sidelines for 6 months. I would definitely recommend Grapplers Guide to people because it has helped me not only stay out of a slump in grappling but also to get me out of one.
Marcus Reynolds
About 3 years experience (currently a blue belt)
I have been a GG member now for around 6-8 months, I am a Blue belt in BJJ and have around 4years no-gi experience.
The grapplers guide for me is an excellent resource for a wide range of materials from the physical to mental aspects of Bjj and grappling. The things I like most are all of the grappling outlines and game plans information and mind maps e.g. for the closed guard etc – I would very much like to see further examples of these from every position such as side control, mount and standing etc.
The recent short clips you sent links too such as xx amount of sweeps in xx minutes I thought were brilliant and actually e-mailed you on separate cover to express this as I truly thought they were a great idea as it quickly shows you a wide variety of variations in a short space of time. Some refreshing the memory and some unseen before options. I liked these very much.
I am very much interested in the theory aspects behind BJJ and again the game plans and trying to apply a very structured approach, as previously I think I have been guilty of watching far too many instructional video's and becoming a collector of techniques and master of none which I believe has had a detrimental effect to my current game as it lacks structure and linking or sequencing of techniques.
The GG has helped me look at BJJ in a different light, and my approach is now very different as I am now trying to "say sentences instead of just words" (as Roy Dean would say) as I am making the journey from Blue to Purple.
I have recently purchased the Bubba2 grappling dummy so I can drill techniques when ever I want. I would love to see an article or video on the GG advising of training methods to use with a grappling dummy. – This is by no means replacing live rolling or training, but is going to be used as additional training.
I recommend the GG to everyone
Adam Maw
BJJ Blue Belt, 4 Years No-Gi
My name is Michael, I'm 25 and live in Montreal, Quebec, Canada. My first language is French so please excuse me for any spelling mistakes I'm doing my best. Ihave started jiu-jitsu around a year ago. I have been in martial arts for over 10 years, I still am a karate practitioner. I will be honest with you, at first when I watched UFC on tv I was ignorant about BJJ I felt like it wasn't an effective way to fight.
Then one day a friend of mine came to my place, he wasn't a BJJ practitioner but you know he had "seen a couple of videos". I decided to spar with him. It blew my mind! I was hooked the moment he showed me a simple armbar from closed guard. I liked it so much, I enlisted in a BJJ/MMA gym the next day and it is my main activity ever since.
I learned about you and the Grappler's guide because of Stephan Kesting. One of the instructor at my gym is in Erik Paulson's Combat submission wrestling, and he told me to go check Stephan's stuff. In one of his video he speaks about you. I went to see your account on youtube and then I saw your solo drills videos. Damn I like those. I bought the dvds and now whenever I have some time, when I listen to a movie with my family, I practice some drills. It helped me so much. One of my coaches was like "did you go to a training camp or something?" because I was improving a lot.
Then I joined the grappler's guide, about 3-4 months ago. It's a fantastic resource site. I'm using the grappling map now, improving it every time I roll. The grapplers guide have helped me improve mentally and technically.
Thanks for everything you are doing for the grappling community.
Thanks again,
Michael Drouin
Hi Skully, i have been on gg for a couple of months.I have only a small amount of Grappling experiance,a year. My main interest is because of my Son Mario,Who is 12 and is a yellow belt junior. All my interest stem from that and helping Mario. GG guide has been a really great source of learning because of that,a typical example was top concepts. We both sat together and watched all three and then practised over the next 3-4 weeks and really improved that part of our jitz. I did not even have time to post any questions or opinons,just getting stuck straight in. Seeing immedeate benefits. The information contained in GG is enough to last a life time,with the weekly tips as well i have already got enough to practise on for the next ten years.We both arent interested in being the next BJ Penn just a father and son enjoying a hobby at home and in his Jitz club…
Thanks for all your personal effort,and shared knowldge.
Maz and Tony
I have been an "official" grapplers guide member only last December 2011 but have been "probing" the site some two years back when I started training brazilian jiu-jitsu. The grappler's guide sticker was right on the front door of my old dojo so it was very hard to miss. Since that time, I've read most of the articles that I have access to, watched/subscribed GG's you-tube videos, bought the solo drills DVD's, been friends/liked/subscribed/facebooked/tweeted with Jason Scully/grappler's guide/BJJ for life and follow whatever updates that comes up.
My dojo already closed down after our blackbelt professor relocated. I still continue to train along with my jiu-jitsu brothers and sisters on a regular basis at a karate dojo accredited as a Gracie garage. I personally use the grappling outline for my own game development and I rely heavily on GG's video for the setup and execution of a specific technique which I share and drill with my bros/sis during classes. It was really difficult training without a qualified blackbelt instructor to guide you through but with dedication, strong motivation, training partners (who have the same dedication and motivation), and a reliable resource site such as the grappler's guide for support, you can never go astray.
The grappler's guide site, with its vast information on all aspects of grappling (mental, physical, nutritional, etc), has proven to be a priceless resource in the continuance of my brazilian jiu-jitsu journey.
Nemesio "Beau" Lagrana
BJJ Rank: Blue belt
(under Black belt Angel Rivera)
Grappling Experience: 2 years
I am currently a blue belt with 3 stripes and train with Infight BJJ Sao Paulo. we are a satelite club based in Regina Saskatchewan Canada. Joe Bossenberry and Chris Desautel are my main instructors and are both black belts under Rogerio Pogio/ Eddie Cadena. As far as what I like about GG, well I really enjoy the fact that there are so many good vids of technique. I like to be able see stuff that is working in tournaments. The vids you put up with you hitting the sub in a tournament and then a detailed instructional afterwards were awesome. The game plans were also a big help for me, I was able to really start to tweak my game. I like being able to chime in the odd time in some of the threads that guys have going. I dont say much because sometimes i feel that with all the high ranking guys on the sight what i say might be redundant or kinda off the mark. I am slowly starting to feel more comfortable with adding my "2 cents". I have been telling the guys I train with about GG, usually after i pull some new move that I picked up. I am a facebook friend of yours and when I looked there are several of my friends that are facebook friends of yours and I didnt know they even knew about GG, kinda cool I thought. Cheers and thanks for all your hard work on GG, Im on the site almost every day and its become one of my main learning tools.
Shaun Barta
BJJ Blue Belt 3 Stripes
I am a relatively new member to your website. I find your information to be accurate and very helpful. It provides a wide range of training methods and techniques. You might say you have a website where "one size fits all". I can find information about fitness, gi and no-gi training, etc… I became interested in your website after following a link from the
mma.com
forum. It took me to some videos of you breaking grips from various positions. Since I recently started training BJJ I really found the grip fighting from the ground to be very helpful. I would highly recommend your website to anyone interested in any grappling type of sport. It is a working document that keeps improving.
I have experience in Judo (3-D), Aikido (1-D), Goshin Jujitsu (2-D), Kick boxing (1D), Wrestling (6-years high school coach), Combat Judo (3-D), Combat Jujitsu (4-D), other arts JKD, Shodokan, etc…
Dale Gilbert
I have been training for many years and am currently a blue belt. I joined GG back in 2008 when I was looking for a way to expand my game. I was instantly drawn to the videos on combinations that Jasculs put up and the match analyses were a great way to look into the minds of experts. These days I visit the forums and can't help be awed by the number of high level practitioners that constantly share their ideas on grappling. It is immensely helpful, and I pick up details constantly. I would recommend Grapplers Guide to anyone who wants to integrate themselves into the grappling community. That's me trying to arm bar someone in competition.
Vince Chuang
BJJ Blue Belt
I have been a member of Grapplers Guide since August 10, 2010. I am a BJJ brown belt under Rodrigo Vaghi and I have 20 years of grappling experience. I like the details offered regarding technique the most. Grapplers Guide has been a tremendous help in all areas of my grappling game, from grip fighting, to developing a grappling strategy, and I have been able to develop my training style further via Grapplers Guide. I recomend the Grapplers Guide to all belt levels and styles of grapplers.
Dana Taylor
BJJ Brown Belt, 20yrs grappling experience
Tournament Director/CEO
The Best of the Best BJJ ProAms
I have been a member for several years now and 'Grapplers Guide'is one of my main sources of information.
I am a BJJ purple belt but have been training for over 10 years in the grappling arts. You continue to suprise me with the tools you provide that continually improve my entire game. And, as an instructor being able to pass on goal graders and game plans is invaluable. I always recomend your website to others who share my passion and am excited by what is to come.
Craig Cruickshank
BJJ Purple Belt 10yrs+ experience
Queensland, Australia
I have been a member of GG for around 18 months now. I am a blue belt in BJJ , this was given to me by Royce Gracie when he visited the UK to do some seminars about a year ago . Although i dont post much or get involved in any discussions I really enjoy and benefit from being a member of GG. My favourite things on GG are the tournament videos were you do the voice over break down in slow motion, i also found the grappling concept and Grip breaking videos very very helpful. Also the combination videos for Gi.
I still feel that i have only skimmed the surface of GG and I am still finding new and helpful things now. About a month ago I discovered all the worksheets that are available , I am currently using the Technique Tracking Sheet Drilling Chart. This has been a great help as my training is a lot more focused, rather that doing three of this tech five of that tech so to speak, I can now go in my garage with about four techniques and drill them each 25 times. The next one I am going to be using is Building Your Game Plan .
I can say without doubt that GG has improved my grappling and would and do highly recommend it to my training partners. I have mentioned yourself and GG to a few of my training partners and also shown the TTSDC to my instructor, he thought it was good and said he was going to look for you on Facebook , if you check to see if you have a friend called Jamie Taylor he is my instructor . I think a few of my training partners are finding you off their own back now though, i heard a few of them talking about the highlight videos that you are putting out.
You are doing a great job Jason.
Kind regards
Andy O'Neill
BJJ Blue Belt
I've been following Jason and the Grapplers Guide for about 3 years. I've been training in the martial arts for 44 years. I am ranked a fourth degree black belt in karate. I am a police defensive tactics instructor. During that time I have had the opportunity to train with many fine instructors and systems. The Grapplers Guide is like a 24-7 gym. It is always open.
I've been a cop for 36 years. The bad guys on the street are bringing a different level of fighting/resistance. I'm fortunate that I am assigned to the training unit and I get to train more than most. The Grapplers Guide helps me prepare for the day when my skills will be challenged for real. I share your information with everyone I come in contact with.
Thanks for all that you do.
Terry
My name is Bernd Renner. I live in Germany very close to the border of Switzerland and Austria I love your site with all the great information that really help me to improve my game technically and Physically. I am current a BJJ – Blue Belt, and Judo – Green Belt.
Bernd Renner
BJJ Blue Belt, Green Belt Judo
My name is Matt Smith and I live in Germany. I am a blue belt in BJJ I have been grappling for a little over 3 ½ years and a GG member now for about 2 ½ years.
The sheer volume of content on the GG is what swayed my decision to become a member after a few months.
The forums are full of helpful, experienced grapplers and everyone if happy to help others with any questions which are asked, answers are often accompanied by video to further help in understanding what is being said. I have never seen / read anything negative in my time at GG – the people who participate are there to help each other purely for the good of the sport.
I often check out videos on the site when I am thinking of advancing a particular part of my game, but I think the discussions and articles on the site are what I really enjoy – I'm more of a "tell me why I am doing it" than a "show me many variations" guy.
If you are interested in Grappling, GG is worth a look. It's one of my favourite sites and I bet you won't be disappointed.
Keep up the good work!
Matt Smith
BJJ Blue Belt
Germany
I have been a GG member for almost one year. I have trained in Judo for numerous years as a kid, then for three years as part of my police training. I am currently a three stripe white belt in BJJ and my coach is professional UFC fighter Denis Kang. I live and train in Ottawa and I am currently scheduled in February to attend American Top Team Headquarters for my level 2 instructor certification. I decided to sign up for the GG after seeing a lot of your You Tube Videos. I like the way you teach as your instructions are very detailed. The videos are of good quality and since my family also trains we can watch them together. I also find that the members are very eager and more than happy to assist with any questions. I enjoy the various aspects of the web site ie: Game Plan forms, routines, training tips etc… the site has helped me technically and mentally understand the concepts behind the techniques which is very important as you know.
I have recommended the site to anyone looking to further their knowledge in grappling.
I have trained in the martial arts since i was a kid- judo, karate, kung-fu and for the last five years Mixed Martial Arts and teaching at the basic level for almost two years. I have recently trained with seventh degree black belts at American Top Team plus other striking and strength and conditioning coaches.
For your consideration,
Sylvain Archambeault
My name is Tim Krueth. I live in northern Minnesota in a small town. I became interested in grappling in 2010 and really started pursuing it in mid 2011. There is no gym in my town to train at, so I have to resort to learning things on the internet and wrestlers I meet.
I started to watch some of the Grapplers Guide videos and loved how detailed they were and decided I wanted to be a member instantly, and in the few months I have been member have been I have loved it. The site has an answer to any question I have, even how to make mats. I think the site has helped me most with my fundamentals and understanding the finer points of grappling. There are many sites out there to help you get better and this one is by far one of the top ones. I would highly recommend this site to anyone that wants to grapple or understand it better.
Tim Krueth
Hi, my name is Alvin Brown Jr. I have been a Grapplers Guide member since 2010. I have wrestled for over ten years, have four years of No-gi , and a little over a year and a half in bjj.
After training for about three months I was promoted to blue belt . Shortly after my instructor passed away. Through Grapplers Guide I was able to continue to train and refine my technique with your grappling system worksheet. It forced me to think of a logical progression of technique.
I was able to find a family of three black belts in Oak Ridge , Tn that trained under my instructor. Even though I live in Springfield , Ma I decided to still train with them. Every couple of months I go down south to train. Thanks to GG I still progress, by finding small details in your videos that I would forget.
I am currently progressing pretty fast toward purple belt. I already have two stripes on my blue . I have competed in MMA and have a record of 3-0. Two of my wins were over a purple and brown belt . Thanks to you I have been able to stay sharp without being able to physically train with a black belt everyday, but I train with you everyday and you don't even know.
Thanks for all you do.
Alvin Brown Jr.
BJJ Blue Belt, 10+ Years Wrestling
Hey guys , the name's Emmanuel Silva. Jiu Jitsu white belt. I've been a GG member for about 3 months now. On the forum I like the way it easy to navigate through it, no hassle whatsoever to reach where I wanna go. I also really enjoy that friendly vibe where no matter what belt or rank in any grappling sport you are in no one makes fun of or trolls on whatever your opinion is. I go on there at least 4-5 times a week to catch up on the different conversations going on through the techniques forum. The grapplers guide has had an impact on the way I roll on the mats thanks to the techniques Jason has posted up and also the discussions that go on in the forums. Its a great community to come into and to learn from, a lot of different people would benefit from such places , but alas its exclusive , so id recommend people to fill up those empty spots up quick!
Emmanuel Silva
BJJ White Belt
I'm a pretty new GG member, and I'm a white belt with probably around 2 years of training over the course of a 4-year period. I enjoy Grappler's Guide because it gives me the chance to ask questions and hear from a wide variety of people. I also appreciate being able to read other people's DVD and book reviews or hear about their projects.
Yael Grauer
BJJ White Belt
I have been a member of Grapplers Guide for about 3 years. I joined about the same time as I received my Blue Belt in BJJ from my instructor, Brian Johnson, of NW Jiu Jitsu Academy. I have been involved in the study of martial arts since approximately 1964 and began studying BJJ in 2006. Currently I am a 4 stripe blue belt training 3 times a week.
Grapplers Guide fills a gap that I have found in my studies of BJJ, outside of the dojo. Unlike many martial arts sites that focus on the latest techniques, GG, while providing excellent information about techniques, also gives in depth information about the concepts that are fundamental to grappling. Understanding concepts makes it that much easier for me to work on the techniques that I am learning in the dojo. Mr. Scully must spend a huge amount of time making certain that the site contains high quality videos; they certainly help me to better understand the information on the site. The information that I obtain from GG has made it possible for me to improve my techniques and continue to train effectively with fellow students, most of whom are at least 30 years younger than me.
Having joined a number of other online grappling sites, only to resign my membership after a short period of time, I wholeheartedly commend GG to anyone who wishes to improve their grappling.
Mark Mestal
BJJ Blue Belt
I have been a GG member for just under 1 year and I have found it to be an amazing resource for me and my two boys in BJJ. I'm still a white belt working closer to blue and my boys promoted way ahead of other classmates. This is because of their hard work and having the GG for me to reference and work on their skills. What I really like is Jason not only shows you the moves but really gets into the concepts and fundamentals of the move or game plan. I've been a member of other bjj sites and found that the GG best suits my needs and I know it will take me a lifetime to cover all the information and knowledge on this site. Recently the boys placed 1st and 2nd in their first tournament and we are trying another one in 2 weeks.
My 8 y.o. son submitted a bigger kid tonight with an omo-plata. We learned that from your videos. They laugh when I say show me the neeno guard. To me it's about having fun first and learning along the way. The gift wrap is one of their favorite move's. I guess it reminds them of Santa. Anyways I think your site is awesome and it is helping me and my boys connect and learn at the same time.
Keep up the good work
Jay Euse
My name is Bryan Zink, I have been a GG member for about three years and as I do mostly no gi I have no rank, I have done grappling seriously for about 5 years but have had a lot of injuries preventing me from reaching my goals. However I find the work sheets, the video and peer advice second to none on this site. It is by far a good deal if you are looking for a plethora of information on schools, technique, drills, nutrition and almost any other questions you have concerning competition or just self defense. The forums are friendly and helpful without the sarcasm you find on other sites. I highly recommend this site if you are a serious competitor, or student of grappling.
Bryan Zink
I am currently a BJJ blue belt and have been training on and off for a couple of years. With my hectic travel schedule I do not get the opportunity to train nearly as much as I would like to, but the grapplers guide has given me the opportunity to review techniques, strategies, and workout routines to help stay as sharp as possible while I'm away from the mat. Even though nothing replaces live training, the grapplers guide has been a goto supplement me for the past year.
Love the site,
Eli Anderson
BJJ Blue Belt
My name is Pascal Stroh, i have been a GG member for 4 years now. My grappling experience is quite limited, I played some judo as a kid, and trained BJJ at Gregor Herb's Grappling Arts here in Freiburg, Germany for about a year. My main martial arts is Muay Thai though and recently I've only been rolling with a couple friends every now and then (one of them is a purple belt, so we have some guidance).
Since I dont get any formal training right now, the videos and advice from the forums help me to not be out of the loop completely. I'd say that the GG is my #1 online resource for information on grappling and the first address i recommend to anyone asking for grappling info.
Cheers,
Pascal Stroh
I've been a member of the Grappler's Guide since 2008 and I credit the GG with being the "missing link" in my training of this art. I am currently a blue belt in BJJ & many times, especially when I was a white belt, I felt that there were many basic details about obtaining & maintaining different grappling positions that I was missing in class. I found the answer to ALL my questions on the GG website. There were articles that broke down the details of every grappling position imaginable. Being a very detail oriented person this was EXACTLY what I was missing when it came to maintaining my positions. I started competing a few months after I began training & had disappointing results. My class performance when rolling did not translate to competition performance. After much self analysis, I found out my problem: I wasn't in the right mind set when competing & I was lacking self-confidence when in that environment. To my surprise, there were several articles on how to improve the MENTAL aspect of my game & improve my confidence when rolling. This is one element of BJJ that many instructors don't teach & if it wasn't for GG, I may not have realized what my problem was in competition. I have improved by leaps & bounds with respect to my mental performance & even won a few tournaments as a white belt because of this.
I have suffered 2 significant injuries since starting BJJ. The first occurred 3 years ago when I sustained a knee injury while trying to escape & ankle lock & most recently (last February) a broken ankle that occurred when a training partner applied a scissor takedown. The first injury had me out of training for approximately 6 months & the most recent one had me out for approximately 8 months. I will admit that the long return back to training wasn't all due to the injuries but also due to waning motivation & a little depression. Being one of the older students in class (currently 39), I started to wonder if these injuries were a sign that I was getting too old for this & that this was more a young man's sport & not for "approaching middle-age" men. The inspiration to return after each injury has come in the form of the GG. Articles about how to overcome a training rut or regain motivation to train, were there & helped me get motivated.
I am truly grateful for this resource as I credit it as the reason that I am still practicing this art. I would like to say thank you to Jason for his passion, his dedication and his willingness to share his vast knowledge in an effort to help all practioners grow. In addition, thank you for creating a nurturing, educational environment for BJJ practioners. This site is truly one of a kind.
Sincerely,
Barton Scotland
BJJ Blue Belt
I really appreciate how Jason makes the videos he posts very easy to download and having access to several dozen black belts is invaluable. The most helpful part by far for me though has been the grappling game plan worksheet. I fell into the trap of trying to collect as many techniques as possible and my progress stalled because of it. In fact the more I tried to learn the less progress I made. The worksheet not only helped me focus on mastering a few reliable techniques from every position, it made me look at my game as a whole and see how the positions flow into one another and open up opportunities for submissions. Because of this, my game has gotten much more fluid and I am always able to think a few steps ahead. The Grapplers Guide helped me overcome a big limitation in my BJJ game and I highly recommend it.
Steve Lefler
1.5 Years BJJ (White Belt 3 Stripes)
My names Wei-Sean Nicolas Chan, Im 22, 150Lbs and in the Air Force. Ive been in the site since 2009. Ive been doing Jiu Jitsu since 09. I am now currently Deployed in the Middle East teaching a Jiu Jitsu class to keep me progressing along the way. I also do Kickboxing and Muai Thai.
I think The Grapplers Guide is a Great tool for any Martial Artist. I believe the Combination Videos Helped me Explore my game. I believe that this Website will help Plenty of others with questions to fill their Gaps and Holes in their Game. Even the new "Grappling with Injuries" will be a great help; seeing that I will one day need to go through it. The Mind Mapping Helps too, and so does the Strength and Conditioning Section. It has helped me with experimentations. Ive even got some books and dvds based on the "Review Sections" and Its been paying off quite nicely. I really liked the recent videos that had numerous Submissions/Sweeps off of a single Position. Its a great and quick tool I use when I need a Refresh and try the old Techniques thats been sitting in the closet. Finally, I would Highly Recommend my peers and any Martial Artist to get in on the Grapplers Guide when they get a chance.
Wei-Sean Nicolas Chan
BJJ Blue Belt
I have been a Grapplers Guide Member since 2008 and recently upgraded to the life time membership. Since coming back to the GG I have received quick and detailed assistance to all my questions which have allowed me to get past my latest training plateau. All the latest trends, fundamentals, and advanced techniques are discussed and broken down making learning easy even for beginner level grapplers
I would recommend GG as a great supplement to your regular training regime.
Kevin
My name is Neil Beevers. I post on the Grappler's Guide with the User name Beev. I am currently a white belt in BJJ and in total have around 8 months training that has spanned over about 6 years. I've been a member of the Grapplers Guide for about 2 1/2 months now and the biggest help to me have been the concept videos when I am rolling, and also the solo drills that were in the DVD set.
Im progressing slowly but I feel movement getting better all the time and im starting to think more strategically on the mat too. A big part of that is thanks to the Gameplan documents that I always read through and am constantly re-evaluating. This is a massive difference for me as even though I tend to get schooled on the mat I'm not thinking about survival, my actions and movements have an idea behind them and I'm no longer just throwing anything out there in desparation!
I have mentioned the Grappler's Guide to friends of mine who even though they have more experience than me are now on the email list and are waiting for the signups to open again so they can join up.
Neil Beevers
BJJ White Belt
Hi my names Niall Hassell and I have been a member of GG for about two months now. As a beginner white belt I have found the GG an invaluble source to help me plan out my game plan with the printable work sheets. With being new to the sport I hear a lot of different terms and phrases being used that I am unfamiliar with, the GG has helped me considerably with this due to wealth of information on it.
I can't recommend the site enough as a newbie, and I can only imagine how much it's going to help me as my game improves!
Niall Hassell
BJJ White Belt
I've been a member of the Grapplers Guide since 2007. Jason has invested a great deal of time & effort assembling a ton of grappling resources to aid in your training. Not to mention all the black belts that are members, so you can ask direct technical questions if you're needing additional assistance. I recommend this site to anyone wanting to better their grappling or just wanting to collaborate with like-minded practitioners.
Kip Brockett
(Secret Agent Man)
BJJ blue belt
(Owner of MartialDirect.com)
I have joined grappler guide a month ago and it has improved my teaching and training and understanding of bjj, wrestling and judo . It is an awesome teaching tool for any one you wants to bring there game or teaching up. I have been a member for over a month And I am very happy that I joined GG my grappling has improved leaps And bounds And with The drills that you created my grappling classes have gotten Big And my students are better grapplers for it And have won Several local events And are very happy with The progarm
Rafael Melendez
My name is Georgette Oden. I'm a blue belt in BJJ under Royler Gracie/Donald Park training at Gracie Humaita Austin. I have been training about 3 1/2 years. I also write a blog (see my signature below.)
I've been a GG member since I was a new whitebelt– I think maybe I joined when I'd been training about 2 months. My favorite thing about GG is the videos showing chained attacks or moves, 2 or 3 in a series. They are really useful because when you're brand new, you can use them to review the things you're learning in your academy. I tried taking notes in class, but that got old because it intruded on my learning experience in the moment AND I could never understand what I'd written later. But being able to prowl through lots and lots of video showing common combinations was wonderful– I could find the identical series from my class and review, plus I could see similar combinations and anticipate other options. Now that I've been training a little longer, I still use these videos as refreshers of things I once saw and forgot about– as well as getting ideas for counters, creative alternatives, etc. I will say that lately my new favorite things are the videos showing "42 guard passes in 7 minutes" or whatever. They're super-efficient! I don't have time at work or at home to watch youtube all day long– these are PACKED full of useful and helpful ideas and they take up almost no time whatsoever. They're great to watch right before a class, too.
I recommend GG to lots of whitebelts because it's a one-stop-shop for technically correct aids to learning. Beginners always feel like they need more help and this site is great as a "security blanket" for newbies. But it's also pretty deep as far as complex and innovative technique at a higher level. Higher than I'm at right now for sure!
Georgette Oden
BJJ Blue Belt
gerogetteoden.blogspot.com
I have been a member of Grapplers Guide since 2008. I hold the rank of purple belt in BJJ (and hold dan grade rank in a few other traditional martial arts styles).
I like the way Jason breaks down technique and the videos have helped me in all aspects of my game (I also started keeping a diary and patterned my game plan off of the materials on the site). I highly recommend to anyone wanting to learn the ground game to use the materials on GG for creating a game plan because some techniques work better for a given body type than others (and it is important to keep track of what works on an individual basis during live rolls or in tournament matches for each position).
To this very day, I use many of the two and three move combinations on GG in my game as chaining techniques together and catching submissions in transitions is the key to grappling with experienced people (learning how to do a basic armbar or any other single technique is useless if you can't get into a position to apply it).
The material on GG helped me develop the chaining together of techniques/transitions and is a valuable resource for anyone wanting to learn to grapple in a methodical manner (as opposed to merely an ad hoc approach that leaves a lot of holes in a grappling game that can be exploited by those with the knowledge and mat time to do so).
Eddie Abdeen
BJJ Purple Belt
I have been a member of the Grappler's Guide website since the first year the website was formed.
I have been doing judo since 1970 and am a shodan in judo. I wrestled 4 years in high school and have been doing BJJ sporadically since about 1996, and earned my purple belt in 2007. During this time period since 1996 I have also been doing no gi submission grappling/wrestling. I also practiced Sambo from about 1994 to 2002 with a Uzbek coach whose emphasis was more on unorthodox throwing and gripping than on leglocks.
The Grapplers Guide has been a trememdous asset to my training in large part due to the library of video techniques covering a wide range of subjects ranging from specific techniques to combinations of techniques. There is an area that analyses matches which is also extremely helpful.
The site is easy and intuitive to search for specific techniques and you can always get helpful and insightful feedback from other members and Jason for questions/problems you can pose in the forums.
The website is an invaluable resource for serious practitioners and competitors alike and I highly recommend you take a
look at it
Angus M.
BJJ Purple Belt
My name is Lynne Pitts; I'm brand new to BJJ, with about four months' experience. Mitymous on GG, and elsewhere around the 'net.
I took the plunge on the GG and have not regretted it for a second; for an utter newbie, attending a small school that has no beginner's class and only one other woman, the whole BJJ experience is pretty overwhelming. GG has provided a great place to lurk and learn, the first place I go to look for information, ideas, techniques, and discussion. I've been able to get a wide assortment of "stupid newbie" questions answered, figured out the terms for stuff I've seen in class, and picked up some great conditioning drills to add to my repertoire.
Jason's personal attention and courtesy, obvious passion for grappling, excellent teaching ability, and willingness to support his community make the GG even better than anything I could have imagined. I'm really glad to be a member!
Regards,
Lynne Pitts
I am a OMG (Old Male Grappler) have been practicing Chinese Martial Arts for most of my life and I started training training BJJ at the tender age of 56. This March I will be 59 years, I am physically quite fit and strong for my age – I am 1.70 meter 65 kg – mainly due to my life long martial arts training, however, at my age it takes a long time to recover. After an hour rolling session with some yongsters my body needs 2-3 days to heal and recover, taking away alot of my training on the mat.
So if you are not strong (or young) you need to be smart thats is whyI am always looking for that edge and luckely I found GG. This site has such a great pool of resources and is so inspirational. For instance, I am a slow learner, X guard, rubber guard etc is not for me so when I was promoted to blue belt I started building my own game template, GG is perfect resouce for building your gameplan. The site has many ready templates for building your own game. The forum is also a great resource, I picked up many tips from senior members and others who recommend DVD's or a GG member who put up his game plan on youtube etc. this helped me a lot to build me overall strategy.
Then there are the super threads (my favorite) detailed and indept explanations with videos about grip breaking, the closed guard, side mount etc…
In summary has GG has tons of information on how to build your game plan but there is more.. The BJJ competition video reviews I love it and learned alot how high level BJJ players apply techniques , the submission combination videos, the condition programs etc. I could go on but I presume you got the picture.
Grapplers Guide is quite an unique resource, Jason did a great job and I have not seen anyting like this site before. So if you are serious about improving your BJJ and create that edge I definitely recommend Grappler's Guide.
Steven Wang
BJJ Blue Belt
The Grappler's Guide and Jason Scully are a "go to" resource for me constantly! The amount of thorough, in-depth techniques is mind-blowing and ever increasing. I have been a member for almost 4 years and still have not seen everything The GG offers! With the injuries that eventually happen in a combat style sport like this it is great to be able to watch videos and absorb so many techniques will on "down time".
The break down analysis matches are also a tremendous help and very educational. Jason is always looking for new ways to improve his site and has a passion for the art and for his students (in real life AND through his website). The Grappler's Guide is a true asset to the online BJJ/MMA community!
J. Brock
BJJ Blue Belt
I have been a member of the Grapplers Guide for 2 months, and I feel I have not even begun to scratch the surface of the information within. I have joined other online learning resources before in the past, and Jason's is head and shoulders above the competition! And the great thing is, he is always adding new content and asking for ways to improve what is already an outstanding site! The site has improved my learning process tremendously, and higher belts are always complementing me on my movements and asking where I learned to move so fluidly and naturally…it has boosted my game and my confidence, and I am very thankful for all the hard work Jason has put into the site. It is clearly a true labor of love!
Thanks!
Andrew McNally
BJJ White Belt
I fell in love with Brazilian Jiu-Jitsu back in 1993 when I watched the very first UFC and I have been a huge fan ever since! I had never trained in martial arts before then and I had no idea what BJJ was, but what I did know, was that I wanted to learn it! Unlike today, back in those days it was very difficult to find a BJJ school. It wasn't until 1998 that I found a Brazilian Jiu-Jitsu school and my 4 year old son and I joined as quickly as we could and the journey began, and what a great journey it has been so far!
I have medaled a couple of different times at the Pan-Ams and my once 4 year old son, who is now 17, is better than I will ever be and has two IBJJF World Championships under his belt!
I became a member of The Grapplers Guide about 4 years ago. It is WITHOUT DOUBT the best resource on the net for grapplers, brand new or experienced! I absolutely love the GG and I will be a happy member for life. Thank you, Jason, for all of your hard work and dedication to The GG and the grappling/BJJ world as a whole!
Kirk
I have been a member (or rather Lurker, lol) to the Grappler's Guide now for about 4 years I think. I say lurker because though I rarely ever post anything, I go on to the site pretty much daily. I am always interested in what the other members are thinking, working on or just for reviews on things like Gi's and Videos. I have been training Jiu Jitsu now for a little over 6 years under Joe Capizzi in Staten Island NYC, who is a Black Belt under Renzo Gracie. Besides Bloody Elbow (for my MMA fix) , the Grappler's Guide is probably the website that I am on the most. The things I love most about the Grappler's Guide is how helpful everyone seems to be. There seems to be a genuine feeling of camaraderie and brotherhood among the members and everyone is always willing to help each other out. I wish I had the time to contribute more but I just do not have the time. I am married with three small children and I am a NYC Fire Fighter, I'm lucky if I can get to class 2x a week to get a roll in. I was just recently promoted to purple belt so I have really been taking advantage of the site more often. I have been watching a lot of the competition footage and training resources besides checking out the forums. I would and have recommended the site to many of my friends who practice Jiu Jitsu. Like I said earlier, I'm on this site daily and would highly recommend it to anyone who is into any of the grappling arts.
Steven Aviles
BJJ Purple Belt
I think the grapplers guide has been one of the most informative forums I have been a part of I remember the first question I asked on GG about wearing a mouthpiece got answered by Stephan Kesting I had seen him in the videos and surprised to actually have him respond to a question I asked and the videos on the site have really helped me improve my game. The first place I ever learned how to do the s mount was the grapplersguide. I have been doing BJJ for three years off and on and have probably been a GG member for 3 years no one really refered me to grapplers guide. I was really looking for a place to help me enhance my bjj and found it with the grapplersguide. I was just intrigued to see what was behind the curtain and the subscription was really worth it.
Arturo Reyes
I was VERY hesitant to pay for a membership, especially since I'm a student.I finally bit the bullet, paid up, and haven't looked back. This forum has been awesome regarding its content and contributions.
Unlike lots of other MMA/BJJ forums out there, I don't need to sift through garbage threads to find one relevant to BJJ/MMA. There's no "trolling" about darn near impossible scenarios or people making bogus comments about relevant topics. People on the forum are very respectful and I haven't felt hesitant to post my ideas or thoughts. The database of video moves is also really helpful, especially since I was out for a while with a bad knee injury. While it's obviously not a replacement for live training, the Grapplers Guide has kept me sane while nursing my knee. I feel comfortable not only contributing to others' threads but also in sharing my own advices and experiences, whether it's about my injury or about a piece of gear I own.
This is the best BJJ investment you can make.
Ayanthi Gunawardana
Stumbled across The Grapplers Guide and quickly found it to be very valuable. It is more than a collection of technique – it is a community of like minded grapplers looking to improve their game. I am working my way through the videos and drills; there's enough material here already to last years. The web master Jason is very prompt in answering queries and regularly comes up with videos to answer your technique questions. I like the site so much I signed up for a membership.
David C.
I purchased the membership only after a few days of exploring the grapplingguide.com. I have trained in bjj for over 5 years and have had the pleasure of training with many well known and respected instructors, one of these instructors being Jason Scully. I trained with him for a handful of classes and have been on of his faithful youtube fan since. Subsequently, when I heard that he was involved in creating the grapplingguide.com, I immediately pulled up the website and have been hooked since.
The membership is a must for anyone who wants to improve their physical and mental game. It allows you to view endless gi and no-gi techniques that give written highlights of key aspects of the technique. I have alread implementd the solor and partner drills into my training. Best of all, these videos can be download, so that you can create your own grappling library. I greatly appreciate that the techniques in the videos are easily viewable and that during the demonstration of a technique, sound rationale and attention to detail are provided. I also enjoy the "cerebral aspect" that the "mental edge" scenario and game plan outlines and the training analysis worksheet have to offer. I have spent hours each day, since I signed up, reading different avenues of this guide. It seems as if new information is added on a daily basis.
My advise to anyone looking to kick their grappling game up a notch, is to invest in the premium package. It is well worth your pennies and will definately improve your game.
Christine
Besides actually attending class, nothing has done more for my BJJ than GrapplersGuide! I was lucky to find the site pretty early on in my career and it has helped me immensely.
Just to have an honest, helpful discussion forum without BS comments makes it worth the annual fee alone. There are numerous high level grapplers on the site that are passionate about the sport and lend their advice regularly, and everyone is super respectful and helpful!
The Webmaster (Jason) is always on the ball with maintenance, requests, and new ideas. He takes everyone seriously and is always looking for new ways to improve the site.
There are an endless number of resources on the site that when put to good use could take anyone's game to the next level! To think it was between my premium membership or a new pair of board shorts…glad I made the right choice! Join the GG fam ASAP!
Mike Manley
I have been doing BJJ for about a year and a half and the Grapplers Guide has helped accelerate my progression immensely. Being a member of a smaller BJJ club where almost everyone attends every class, it is difficult to get ahead of your peers. Virtually everyone is learning the same techniques as everyone else, so it is difficult to surprise anyone with something they have not seen before. That all changed when I became a member of the Grapplers Guide. I have been able to perform and execute several technique combinations in live randori that I have learned from this site. This has been a far better supplement to my training than any store bought book or DVD could have been due to the site constantly evolving with new information. It is definitely worth the investment.
Dan
I joined the Grappler's Guide because I saw some sample videos on Youtube and, figuring that I could always benefit from more moves and drills, I signed up. However, upon joining, I was pleasantly surprised at the breadth and depth of the other resources available to Premium Members. Moreover, it has been the analytical resources on the site, rather than the technique videos I signed up for, that have benefited me the most. Seminars and DVD sets can provide all the grappling positions and moves that one could want, yet I can honestly say the evaluation sheets pertaining to the different aspects of drilling, training, and competition have benefitted me as much or more than any resource that I have invested in outside of class. This website is tremendously helpful and I hope that it continues to grow.
Nick
When you sign up to the Grapplers Guide, you are essentially tapping into a wealth of grappling knowledge; a plethora of articulate and and well instructed guides that address effectively every facet of grappling – with video, articles, journals, tips, reviews, discussion, and more. I admire and truly appreciate Jason's relentless commitment and dedication to contributing to the grappling world, and subsequently providing us with such a valuable service – he demonstrates a multi-approach to success in grappling through his game plans, guides and articles, and encourages a pursuit to 'tackle' grappling from all angles to effectively get the most out of it. And if Jason's knowledge alone isn't enough for you, just ask one of the many brown and black belts and they'll happily provide you with the answers you seek!
A satisfied member of The Grapplers Guide,
Brenton
Grapplersguide.com is easily the best site out there for anyone looking to improve in the grappling area. I hesitate to call it a 'discussion forum' site. It's far more than that! It's a total grappling resource; technique videos and drills, play by play grappling match analysis, sport psychology, conditioning routines, and yes there is a discussion forum… Lots of advanced belts who are all very helpful in answering anything thrown at them (often with video responses). There is just a huge amount of information here for the money. Joining grapplersguide is probably the best thing a grappler can do off the mat to improve their game.
Jack Gardner
I've been on a lot of different forums dealing with grappling and mixed martial arts…. This is one of the few that actually seems to care more about the grappling and less about calling each other idiots… The people here are very helpful and have helped me get a lot more done on the mats. The best part is that besides the advice, talking about grappling and having so much information about grappling does nothing but inspire you to get on the mats more. Whether it's to try out a new move you saw on the videos or to figure out why someonthing isn't working. This site really does have a great amount of information.
Matthew Boylan
Ive been training for 5months in BJJ and have a year of Judo training. I am always looking for ways to improve my grappling and I was so stoked to find this place, at first I signed up for the free account and didnt visit much for the first month. After a that 1st month I came back started posting and looking around and realized this site delivers what Jason advertises: Dedicated 100% to the improvement of Your Grappling Game! This site has become an integral part of my training and has already paid huge dividends. Everyone on here is polite, mature and willing to help you with your questions. Jason is great at answering questions and adding new content. There are more and more brown and black belts joining the site and sharing valuable information so that alone is priceless. I recommend this site to any one who trains in any form of grappling. The price is insanely low for what you get so sign up and start reaping the grappling goodness.
Jason Fitzsimmons
When I first found the Grappling Guide site, I had just suffered a major injury (torn muscle) that sidelined me for 2 months. For 2 months, I couldn't train at all. Well, that is to say that I couldn't train my body at all. One of the best things that GG has opened my eyes to is the importance of the mental aspect of training. Using the wealth of knowledge built by the community at GG, I was able to study not only techniques but also philosophies, mindsets, and gain a better understanding of how / why certain techniques work in given situations. I can't measure how much my game has changed since finding GG. The way that I view my training sessions and goals has completely changed and it has definitely had a positive impact on me both on and off the mat.
Jason D
I'm absolutely loving the Grappler's Guide Premium site. There is loads of training information on here, and it makes it well worth the price. Beyond that, the fact that there is no trolling is a huge plus. The friendly conversation makes it much easier to get solid info. No sorting through the BS like on other sites. I give this site 2 thumbs up!
James
I always look for the free sites because I am never convinced the information will be worth paying for. With the Grapplers Guide Forum you get great quality instructional videos, advice and tips from other fellow grapplers as well as awesome contests! I enjoy the conditioning section as well. This site has it all and for such a low low price you can't beat it!
Donna
There just isn't enough to say about this forum.
There are numerous high level grapplers/competitors that post regularly and who can offer guidance, tips, and suggestions for people of all ages and experience levels.
Not only are the discussions of very good quality, but this place has somehow managed to avoid one of the main pitfalls of public forums: trolls and flamers. Pretty much everyone on here is helpful, polite, and fairly knowledgeable.
The contests and prizes available are also definitely an added bonus. No catch here, I have already received my first prize, promptly, and am very grateful to this site. The contests are always free and everyone has a shot at 'em.
There is a great staff here, always improving and helping the site to grow. Since sign up is free, there is nothing to lose! (Absolutely no spam to boot! ) So get in while you still can!
Joe
I don't usually sign up anything on the internet, but once I saw the quality of the free instructional clips on this site I signed up and have been nothing but extremely impressed. The variety of techniques and details within each are better than most instructional tapes. This combined with the detailed gameplan outlines and match analysis make this site the best grappling resource available.
Jason is an awesome instructor and genuinely wants to help people reach their potential in the world of grappling. He always takes great care in answering questions quickly and in great detail.
I promise you that you will not be disappointed in signing up for the premium membership.
Pat
This place is well worth the money. I highly suggest anyone who isnt already a premium member, to hurry up and get the premium membership. It has great stuff that will really improve your game, your cardio, your mental planning, and your overall training regimend. I wish this place was around when I first began training in BJJ !
Balcom
I got my purple tonight from Gigueto and the recognition feels great. I'd like to thank you as you are one of the most influential people on my game (I know, I know we've never worked out) your internet instruction really helps speed up my progress & I trust your shit.
Thanks,
Preston
Thanks for all your hard work. This site has helped my grappling tremendously.
Tommy
Hey Jason, I'm loving my new membership to Grapplers Guide. Outstanding!!! Being that I'm on the east coast and my instructors are on the west coast, I think this will really help me in my game during those "in-between" times when I don't see them for instruction. I'm especially loving the diversity of information that is available! Thanks again for a great resource to our community,
Adam L
I just came across your site while surfing the net by pure chance and was so stoked! This site is friggin awesome!!!
Im a brown belt here in South Africa and run a club but dont always have access to a black belt to train with, i try get to brazil each year to train and compete for a couple of weeks (as finances allow-our monies worth shit 1$=9R the Rand is our basic unit of currency so evrything here costs almost 10 times what it does in the States!) This resource is awesome! Thanks, i signed up straight away for the premium membership, expensive for us but it looks like it's worth evry cent, so please keep up the good work!
Micah
Jason, First of all i would like to say what a great job your doing with the site, all the advice is extremely helpful
Andrew
Hey, thanks for the great website. I can't believe how much info is here. I just started a jiu jitsu school and you've been a big help!
Brian Fisher
Jason, wanted to say thanks for putting together a great site with great material and without the politics and trashtalkers. I've turned a couple of our beginner students on to it and they love it as well. Plus, I've been able to hook up with some people locally. I was hesitant at first to pay for a site, but am thankful I did. After about 3 years of training, I started saying away from internet material because of the aforementioned politics and trashtalk problems. It's nice to have a place to go and talk with guys/ladies who have a strong interest in our art in and do it in a mature manner without insults, berating, etc.
Thanks again,
Andy Ruffner
Hello Jason, My name is Chris. I found your site via MMA.TV – I believe you made a post in the Atama BJJ Forum. I am an avid martial artist and am doing the best that I can to always develop. One of the avenues that helps me to do so is to read forums, blogs, etc. Hence my curiosity to try this site out. Your site (Grapplers Guide) is what I have been looking for. I am very very impressed by the quality of information you provide here. Not only do you provide game plan blue prints, video analysis and other helpful tools, the quality of the forum members (aka those that you attract to your site) are very helpful and appear respectful. THANK YOU for creating such an environment!!!!
Chris
People don't get enough encouragement so I just wanted to take the time to say that I think you've done a great job with the site. It takes balls and a lot of determination (not to mention a fucked up type A personality) to put together something like this and stick with it. I am extremely impressed with the amount and diversity of content on The Grappler's Guide. I love to see innovators at work! Keep it up.
Mike Kirkland
Hi Jason, I just subscribed to the forum and Jesus is there alot of great information. I've only been browsing for a day and at least 10 or 15 things I have problems with are solved.
Thanks
Bruce
With all the videos, giveaways, grapplersguide, and running tournaments the things you are doing are a little overwhelming to think about. You are an incredible asset to the BJJ community!
Jeremy P.
You helped an old bastard like me, keep it up!!
David P.
Well truth be told i have spent a pretty penny on vids and seminars, I really enjoy your teachings, if you ever put out an instructional vid. I would have no problem investing since I have sampled plenty already, thanks bro. teaching is a gift, and you have it…
Ruben P.
u are always hepling out the bjj community im really thankfull for all your videos, views comments, you are a great guy; i dont even know you but def. you are my friend. greetings from mexico.
Alfonso L.
ou sir are gifted and talented and I appreciate the videos and information you share. Thank you for allowing others to reference of the beauty of your technique. I have been training for 5 years and so I still have a lot to learn. You always show me something I hadn't thought of or seen before. Much appreciated. Happy and healthy training to ya!
Jen D.
You are an inspiration; keep doing what you are doing.
Jim S.
I've been studying your videos everyday. There is always something new that I learn from them. I appreciate the time you have taken to record all these techniques.
Angel C.
I had never been able to get North South choke to work. Even with all the material available online. Your attention to detail made it a breeze to learn and now I'm hitting single arm North South chokes in sparring.
Wayne P.